I've mentioned in older posts my love of the Commander (originally known as EDH or Elder Dragon Highlander) play format for Magic the Gathering.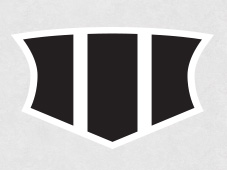 Commander 2014 symbol
by Wizards of the Coast
For those not in the know, EDH are decks of 100 cards from any set with a limited banned list. Each deck has only one of each card unless it's a Basic – Land (i.e. Islands, Swamp, Plains, Mountain, and Forest) and one of the cards is removed from the deck to act as the 'Commander'. Games tend to be a bit longer as each player has forty life points to start.
The commander is where the focus of the is centered. The commander must be a Legendary Creature. The commander can be cast from the Commander Zone to enter play. If the Commander is removed from play and sent anywhere but their owners hand, they return to the Commander Zone to be once more cast but with an additional cost of two colourless mana per incident. The commander also limits the type of mana a player can generate. The colour types in the cost of the commander are the only coloured mana generated, any other coloured mana is made into colourless mana. Last but not least if commander does 21 or more damage to a single player that player is killed no matter their life total.
You can play with most of the cards ever printed and the single copy of each card prevents any type of overused spam or broken legacy combos. It promotes lots of rare cards that don't get used because of the cost to pick them up. Lucky for players of EDH, you'll only ever see one copy – making it much more easy to swallow pocket book wise for players who are not wanting to dump buckets of cash into Magic the Gathering.
Wizards of the Cost jumped on the format and has since released three products for Commander; 2011 they made up five pre-built three colour decks, 2012 they published Commander's Arsenal a limited set that came with every card In that set, and in 2013 Wizards released another set of five pre-built three coloured decks.
Commander's Arsenal by Wizards of the Coast
Also sells between 300-500 dollars - US dollars!
Now we wait for November's release of the five pre-built mono coloured Commander decks.